Edward: MOD Pizza's Newest Team Member
Edward "Eddy" Barnbell is one of MOD Pizza's newest team members – and he is certainly in good company. With almost 500 store locations across the country and growing, MOD Pizza prides itself in being a place of business where everyone belongs. Their commitment to diversity and inclusion in their workforce is impressive, as they currently employ nearly 300* people with intellectual or developmental differences (IDD) nationwide. MOD Pizza enlisted training and support from Best Buddies in 2018, which helped them double their number of employees with IDD.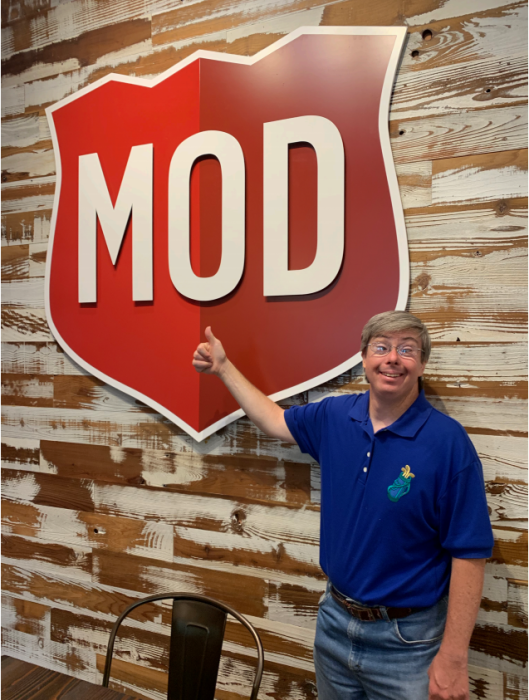 Eddy has been employed at MOD Pizza in Parkland, FL for just over a year, and he is already thriving! When performing his wide range of job responsibilities – from pressing dough to maintaining the store lobby to ensuring clean dishes are always ready – his top priority is always to deliver a flawless customer experience. "Throughout my day I make sure the customers are happy and have a clean environment to enjoy themselves in".
Eddy's employer quickly took notice of his customer services skills. According to the store's General Manager, Kenny Brittain:
"Eddy is an amazing human being whose humor brings joy to our entire team. He works hard and keeps the lobby in perfect order. Every customer that interacts with Eddie always leaves happy".
Outstanding customer service is one of the many benefits MOD Pizza found in hiring Eddy. He also exemplifies the impressive work ethic and diligence that many of their other Squad Members with IDD display every day. And they expect Eddy to be a member of the MOD team for a long time. "On top of performing their jobs as well if not better than their peers, we have found that our Squad members with IDD are fiercely loyal. On average, they have stayed with MOD four times longer than our Squad Members without IDD."
While MOD Pizza is benefitting from such a great hire, Eddy is also benefiting from some added perks of the job. When asked what he enjoys most about working at MOD Pizza, he is quick to add "I love making new friends and learning new skills. I am passionate about being productive".
If he isn't working, Eddy loves eating MOD Pizza as a customer with his family (his favorite is the MAD DOG). His true passion is acting – with appearances in his community playhouse productions as well as television & film credits in the Comedy Central show Workaholics and the movies The Ringer and Hallpass. He is also incredibly active, and one of his proudest moments was winning a gold medal in tennis through his participation in Special Olympics.
*Number reflects employees in corporate-owned stores.