Julie: What Employment for People with IDD is All About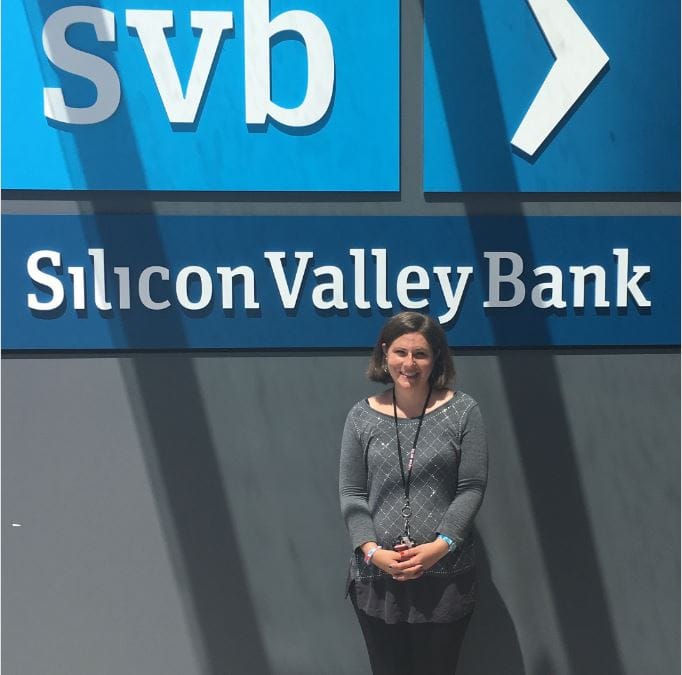 A Taft College graduate finds a professional environment and meaningful career at Silicon Valley Bank in Santa Clara and becomes a member of the banks community.
"It's clear you are proud of your company and highly motivated to contribute."
After Julie graduated from the Transition to Independent Living (TIL) program at Taft College, she moved to the bay area and began a search for a new job. Julie had been employed at several different companies — K Mart and AMC Movie Theaters, for example — but she knew that after college she was looking for a career. When Julie learned about an opening with Silicon Valley Bank in Santa Clara, she jumped at the chance to apply. A relatively short commute from her home in Belmont, SVB offered the professional environment Julie had been looking for. Needless to say, she got the job!
"Your daily work is also defined by
your determination to do your best"

—Julie's manager
Julie has been employed at SVB for almost 8 years now. Her title is "Corporate Distribution Services Clerk" but the jobs she has been tasked with go beyond her department and add value to her entire office, and the company as a whole. Through several raises, increased hours, and year-end bonuses Julie has been able to get off of her SSI cash benefits, receive medical benefits through her employer, and live independently in a studio in Mountain View.
Julie has truly become a member of the SVB community. In fact, she is probably one of the more prominent members! Ask anyone at Tasman (SVB's headquarters) about Julie and they will know exactly who you are talking about!
In a past year end review, Julie's manager shared the following feedback:
"You have completed each of the goals outlined in Q1 and made contributions above and beyond. Your enthusiasm to take on new roles has expanded your position to include increased responsibilities in assisting other teams within Finance as well as other departments. Conscientious submittals of quarterly safety reporting assists our Business Continuity Management team. As a participant and member of the Safety Committee you have increased your knowledge of site safety and contribute to the safety of employees.
"Your daily work is also defined by your determination to do your best, and try your hardest. You have taken on new systems and processes successfully and continue to challenge yourself both on and off the clock; you find satisfaction in your accomplishments. You remain conscientious in your business practices by responding to all communication, following up when needed and following directions always. You take initiative without being prompted when directive is clear and ask questions immediately so you can proceed efficiently. Areas of noticeable improvement relate directly to goal achievement in communication and computer skill growth but overall, has led to an increased level of professionalism and contribution in all areas. You make a positive impact on the people and departments you support: file room organization; mail room delivery and sorting; business card editing. I do not see this changing. It is clear you are proud of your company and highly motivated to contribute to the success by your support as a business professional."
When employees like Julie contribute as much to their employer as they gain in return, it embodies what integrated and competitive employment for people with IDD is all about.