Terrel: Contagious Enthusiasm and a Fitting Nickname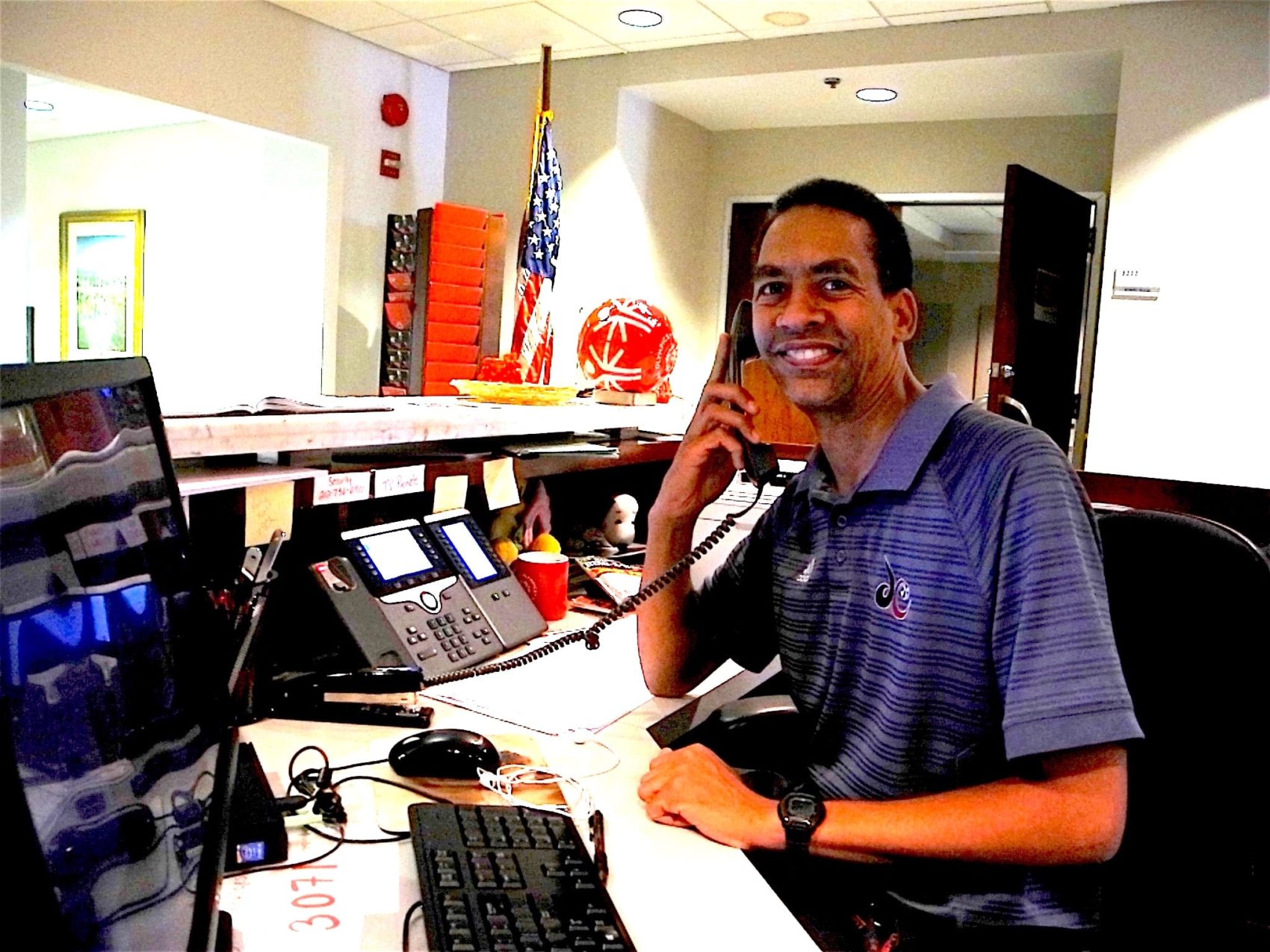 Athlete, employee, master of public speaking, actor, and talk show host just begins to describe an exceptional worker at Special Olympics headquarters in Washington, D.C.
"He's always got the best attitude."
Terrel is an outstanding Special Olympics athlete who is also an outstanding employee.
Over the years, Terrel has won more than 100 gold, silver and bronze medals competing in sailing, basketball, alpine skiing, bowling, and track and field. He's also been involved in the Special Olympics Athlete Leadership program, where he mastered skills in public speaking. He speaks to local schools and other organizations to talk about Special Olympics sports and health programs and the importance of inclusion for people with intellectual disabilities. Terrel is also an actor with ArtStream, a performing arts company for adults with disabilities. More recently, he's been co-hosting a talk show for his local community TV station.
And that's just during his free time. For nearly 20 years, Terrel has worked five days a week as an office assistant at Special Olympics headquarters in Washington, D.C.
"When Terrel is here,
I never worry about office services."

Terrel's supervisor, Theresa
Terrel's responsibilities include mail and package deliveries, order fulfillment, as well as updating supplies and inventory. He also answers the phones at the main reception desk.
His supervisor, Theresa Simms-Smith, calls Terrel an exceptional worker: dedicated, diligent and quick. "I know sports helped Terrel learn to be a team player and we see that in his work here," she says. "He's always motivated to do his best, every single day."
She adds, "When Terrel is here, I never worry about office services: coffee stations are stocked, supplies are ordered, and conference rooms are cleaned. What I enjoy most about Terrel is he is always happy and truly loves his job."
She also says Terrel's public speaking skills come in handy, especially when he gives building tours and greets visiting guests and VIPs.
At staff meetings, Terrel often asks the best questions – which often cut to the heart of the matter. As another co-worker puts it: "Terrel's so insightful and smart – and he's always got the best attitude. His enthusiasm is extremely contagious, always!"
"Terrel the Terrific"
Supervisor Theresa Simms-Smith recalls one (of many) reasons why Terrel earned his nickname:
"One day I was scheduled to give an orientation to a group of new employees. In the midst of starting the orientation I was abruptly called away. I turned to everyone and said, 'Can you excuse me for just one moment?' I left the room briefly, and when I returned, I heard Terrel giving my orientation speech word for word.
"I stood outside, so as not to interrupt him. My heart swelled with joy, as I was so very proud of his delivery and that he left nothing out of the orientation. He even delivered my famous last line that I always close with – thanking and welcoming the new employees. I spent the rest of the afternoon telling everyone who would listen what Terrel did.
"It is truly a pleasure and an honor to work with Terrel. That's why he is known around the office as, 'Terrel the Terrific!'"