Ricky Rubio
NBA Professional Basketball Player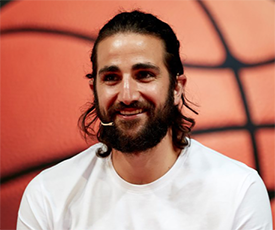 Since Ricky started playing basketball, he has always thought about how to leverage professional sports to help others and how to have an impact on the greater community.
He had always tossed around the idea of starting a foundation until the decision to act became clear. His mother was diagnosed with lung cancer in the summer of 2012. He states that the following four years were some of his hardest. In one of his last conversations with his mom, he promised her that he would do everything in his power to help others.
Vulnerable children and youth are one of Ricky's focuses since he feels strongly about helping them grow and integrate into society in a healthy manner. The other objective of The Ricky Rubio Foundation is the fight against lung cancer in terms of both awareness and prevention.
Ricky Rubio with Holly Robinson Peete
on the Delivering Jobs Ambassadors Radio PSA: