Caley Versvelt
Actor, Personality, and Philanthropist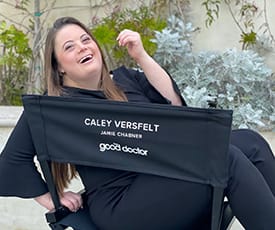 Caley Versfelt lives her life turning disabilities into abilities and spreading acceptance and inclusion. Her motto is, "Never give up and dream big." She believes, "Having Down Syndrome is a gift."
Caley enjoys all aspects of the entertainment industry. She is an actress and will be a guest star on ABC's The Good Doctor, episode 410, airing Monday, February 8. She is on the TV series Needs to Bake, and was on A&E's Emmy award winning show, Born This Way. Joey Travolta features Caley in his recent documentary, Let's Work. Caley also has experience in production filming, Second Date, You Did What, and Gia and Dragon. Live theatre is always exciting. Caley is in the opening act for The Sound of Musical, at Hollywood's The Second City, and performed in Hollywood Fringe Festival's, Ride or Die.
Caley is passionate for her advocacy work with many organizations. She represents Best Buddies as a Global Ambassador, and serves on their Los Angeles Advisory Board. Caley is a prior Board of Directors member for Special Olympics Southern California and is a Global Messenger. Additionally, she was a Games Associate and Correspondent, with the Special Olympics World Games Los Angeles.
As a correspondent, Caley was honored to be a red-carpet co-host for the Media Access Awards. She has interviewed celebrities for Reel Abilities Film Festival, Meet the Biz, and Special Olympics World Games.
Every day, Caley looks forward to going to work at Entertainment Industry Foundation. It is a socially conscious company, which supports major programs and campaigns on issues affecting millions of people around the world. Among these are, Stand Up to Cancer to fund research, Music for Relief to aide in Natural Disaster Relief, and Delivering Jobs to create paths for employment for people with intellectual and/or developmental differences.
Caley lives everyday embodying that everyone should be treated with dignity and value. She is passionate about sharing these values speaking at events and through her company, Tides of Kindness, which promotes, "Kindness is contagious."
Follow Caley:
Caley Versfelt for Delivering Jobs + SHRM:
Delivering Jobs Launch PSA:
Behind-the-Scenes
for Delivering Jobs:
Behind-the-Scenes
for Delivering Jobs + SHRM
Delivering Jobs Print Ad: