Kevin Valdez
Actor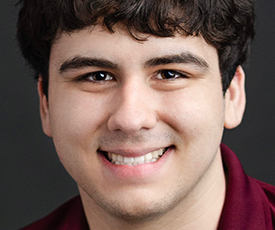 Kevin Valdez was diagnosed with autism at the age of 22 months. After growing up in Ripon, California, he found a small passion for acting during his time in elementary school and dreamed about making it big in Hollywood.
At 14 years old Kevin got his first acting role in Cornerstone Community Church's theatre production of Cinderella Kids in Manteca. He would later play parts in other productions like Seussical Jr. and The Lion, the Witch and the Wardrobe.
Kevin was part of his high school drama club for four years and was selected to play Teddy Brewster in their production of Arsenic and Old Lace as a sophomore. He graduated from Ripon High School as the homecoming king and later turned to Futures Explored, a subsidiary of Inclusion Films, which was founded by Joey Travolta. He currently attends their workshop in Stockton.
Kevin starred in his first screen role as Louie King in the Apple TV+ series Little Voice.
Kevin is hoping to become an advocate to those with autism and other disabilities and make more stories be heard around the globe by sharing his story with others.
Kevin Valdez for Delivering Jobs + SHRM:
Delivering Jobs + SHRM
PSA:
Delivering Jobs + SHRM
Behind-the-Scenes:
Kevin Valdez in the Delivering Jobs + SHRM Radio PSA:
Kevin Valdez in Delivering Jobs + SHRM Print Ads: